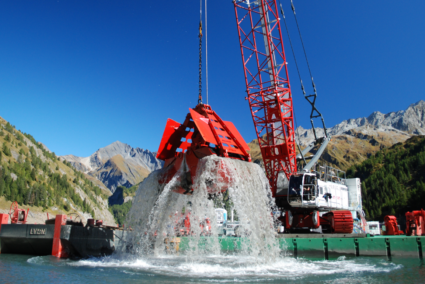 Our background
VINCI Construction Maritime et Fluvial is part of the VINCI Construction division, the world's leading construction company, which brings together over 830 companies and more than 71,000 employees in some 100 countries.
VINCI Construction is characterised not just by its size but also:
the diversity of its expertise, which extends to all building, civil engineering, hydraulic engineering and specialised construction-related activities;
its economic model, divided into three complementary components deployed on a global scale: local subsidiaries with strong local roots; specialised activities; and a business cluster dedicated to the management, creation and implementation of complex projects;
its management model combining decentralisation, networking, autonomy and the individual responsibility of managers, personal development and responsiveness of organisations.
In 2017, VINCI Construction Maritime et Fluvial was born from the merger of Vinci Construction France's six subsidiaries specialised in maritime and river works, with the aim of pooling their expertise and design offices to provide an integrated service in maritime and river works. VINCI Construction Maritime et Fluvial relies on the historical activities of its subsidiaries: dredging, rock excavation, pile driving, river and maritime civil engineering and underwater works.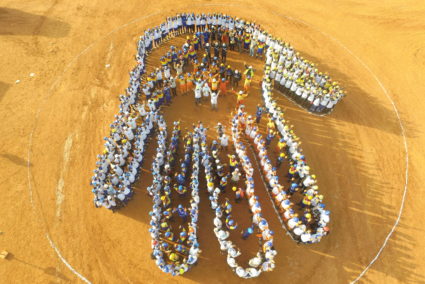 our values
Focussing on integrity and performance, we are committed always to respect the laws and rules of the countries we operate in. Our approach puts performance and transparency at the heart of our activities and customer relationships.
The same ethics prevail internally in the management of human resources. All our employees share a corporate culture built around shared values that combine humility, respect, the pursuit of excellence and environmental performance, all in an environment of optimum safety.
At relational level, VINCI Construction Maritime et Fluvial is committed in the long term to maintaining respectful relations with its customers and suppliers. To guarantee you the excellence of our services, we are constantly and continuously innovating to meet maritime and river challenges throughout the world.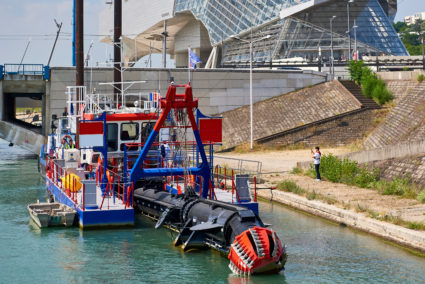 Our achievements
VINCI Construction Maritime et Fluvial owes its success to:
Its renowned expertise and know-how
Its equipment fleet of over 250 units
The diversity of its experienced, passionate and creative teams
Its high quality and safety standards
The excellence of its projects
Its ability to constantly innovate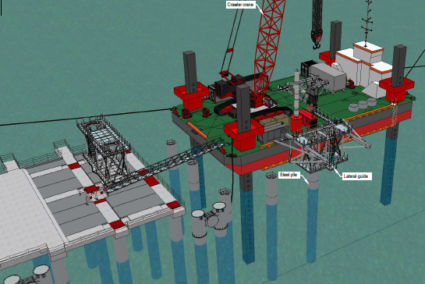 Engineering Department
The Engineering Department of VINCI Construction Maritime et Fluvial is responsible for all the company's areas of expertise, from design to execution.
Our 50 engineers and designers who work in the engineering department are part of the strength of our integrated design office. Our teams design maritime and river structures with the best technical solutions in terms of safety, performance and respect for the environment.
They combine design, construction method and research and development skills, offering our customers turnkey projects as well as permanent technical assistance during the execution of work.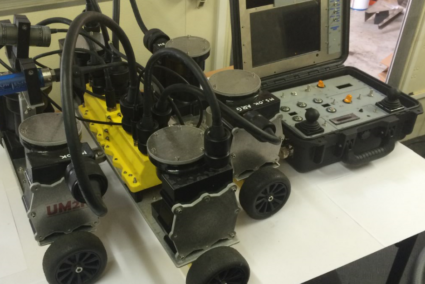 Research and development department
Our experts develop technical solutions at the cutting edge of innovation for greater performance on site and better respect for safety and the environment. We are part of a progress strategy that allows us to offer our customers ever more reliable solutions adapted to project requirements.
The Research and Development Department also forges permanent links with the sites and is involved on a daily basis in the development of adapted and innovative technical solutions.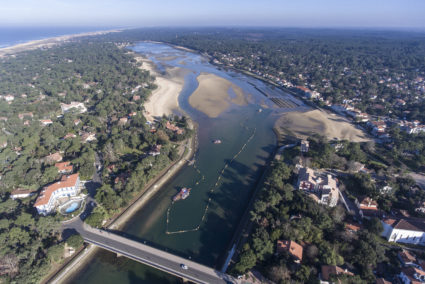 Stakeholder management
Focussing on integrity and performance, we are committed always to respect the laws and rules of the countries we operate in.
Concerned about the site's footprint in the local community, we strive to reduce its impact by paying particular attention to the various stakeholders. For us, they are a key focus for the integration and smooth running of the project.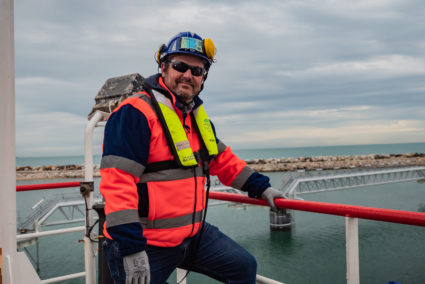 Our commitments
Quality is the common denominator in all our work
To ensure its work is of the highest quality, VINCI Construction Maritime et Fluvial has established a very high-level quality process. Our specialised activities in the design, construction, restoration and maintenance of structures require us to constantly seek to optimise our productivity.
Personnel safety
Because everyone has to return home unscathed, safety on our sites is always a priority for us. Inseparable from our commitment to excellence, it is at the heart of the culture of the VINCI Construction Group and VINCI Construction Maritime et Fluvial.
Respect for the environment, communities and local integrity.
VINCI Construction Maritime et Fluvial deploys all its know-how to integrate its projects into local landscapes and make them a key part of responsible development. Conscious of current and future environmental challenges, we take care every day to limit the impact of our activities on the environment.